Seven-thousand Feet above Sea Level, a Teaching School Garden is Slowly Taking Form
http://edibleschoolyard.org/project-blog/2012/09/19/seven-thousand-feet-above-sea-level-teaching-school-garden-slowly-taking-form
By Tahereh Sheerazie | Posted September 19, 2012
buy generic viagra online
ites/default/files/1.jpg?1348084061″ alt="" width="250″ height="188″ />
At 7,000 feet above sea level, in a valley between the Karakorum mountain range and the Chinese border, a teaching school garden is slowly taking form in Pakistan. I have trekked around the area several times (Nanga Parbat, Deosai Plateau, etc.), and with each visit, my attention has been captured by the remote majestic beauty of the mountains and valleys of Baltistan and the gentle people who live there. My draw to this place and its population is the driving force behind my school garden effort.
When I learned about the construction of the first co-education school in the village of Siankhor, spearheaded by the Agha Khan Cultural Services Pakistan (AKCSP), I immediately envisioned a teaching garden and offered to design its one-acre garden space. From there, I was assigned the task of training five local female interns from Women's Social Enterprise (WSE) on the basic skills involved in landscape design – scale drawing, concepts, etc.
With some funding and logistical support from AKCSP, I accepted a two-month consultancy position in 2009. Together with my five interns, our tasks were two-fold: we would design the teaching garden and champion its educational concept. The most exciting part of what we were creating was its usefulness to the students and interns it would affect: we would create an educational tool for children of farmers, to teach them a hands-on approach to all subjects learned in school. The experiential method would also help the interns develop confidence to explore professional opportunities beyond the two common work titles open to women in Shigar: teacher and health worker.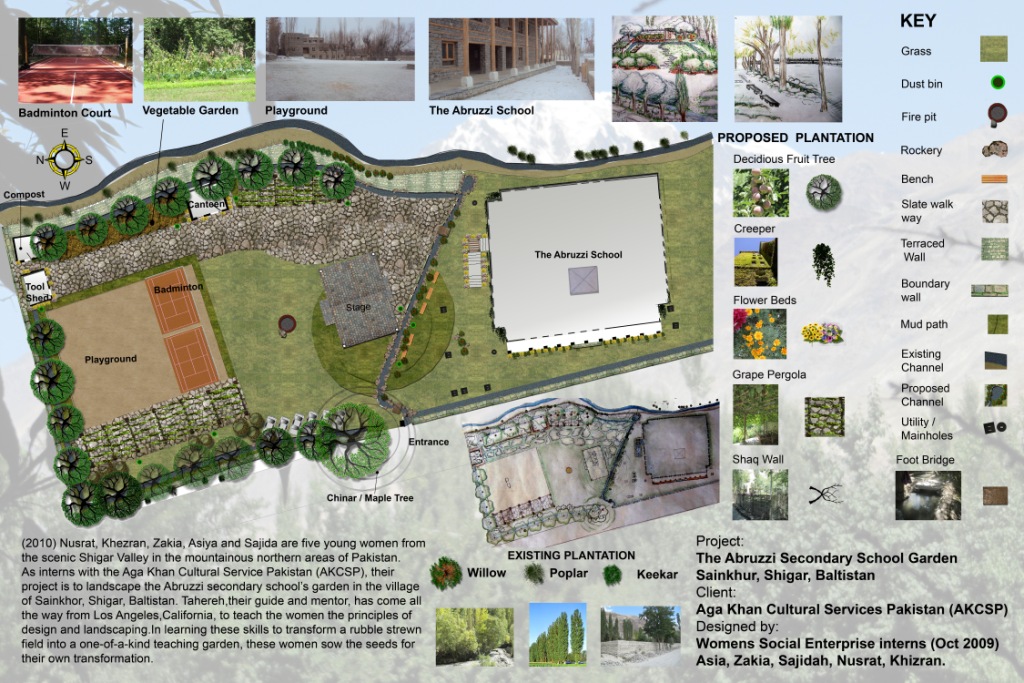 Design plans evolved from a traditional playground for football and parades, to a new reality which reflected the wishes and needs of the school children, teachers, administrators, and the larger community. We conducted extensive interviews across all levels of the school network, to ask questions to the community which truly did impact the final construction plan. What kind of garden should we build? How should the spaces be used? What should be grown on the land? Why should we consider creating a school garden? Our detailed research and documentation of existing school gardens in Shigar, coupled with our continuous sketching and developing of individual ideas, landed us with a final plan. Designed and drawn-to-scale by the interns, the garden had room for play, theater, an edible garden, a cafeteria, ample fruit trees, flowers, and shady seating areas. Its defining factor was each class's allocated vegetable patch.
To ensure the garden's sustainability, it became increasingly clear to us that the entire community must see the project as essential, and understand its concept – in order to respect its function. We focused outreach efforts on villagers in Siankhor, in particular, because children there cannot afford costly private school education.
The school became operational in March 2010, the same year that Mahera Omar's documentary, A Garden in Shigar, aired, showing the early stages of our process and the slow transformation of the interns from shy, unsure girls to confident garden designers. The film received an award in March 2011, from amongst 98 international submissions.
Ms. Omar's film, and her monetary donation from the award, became the catalysts that led to other sources of funding: private donations and a few small grants comprised our initial funding stream. Attention increased, with the visit of a group of college students from McGill University, who offered to create a website for the garden and raise funds to construct it. After a year of fundraising, volunteers Currim Suteria, a McGill architecture student, Ibtesam Pooya an Islamabad-based architect, and I went back to restart the engines in the summer of 2011.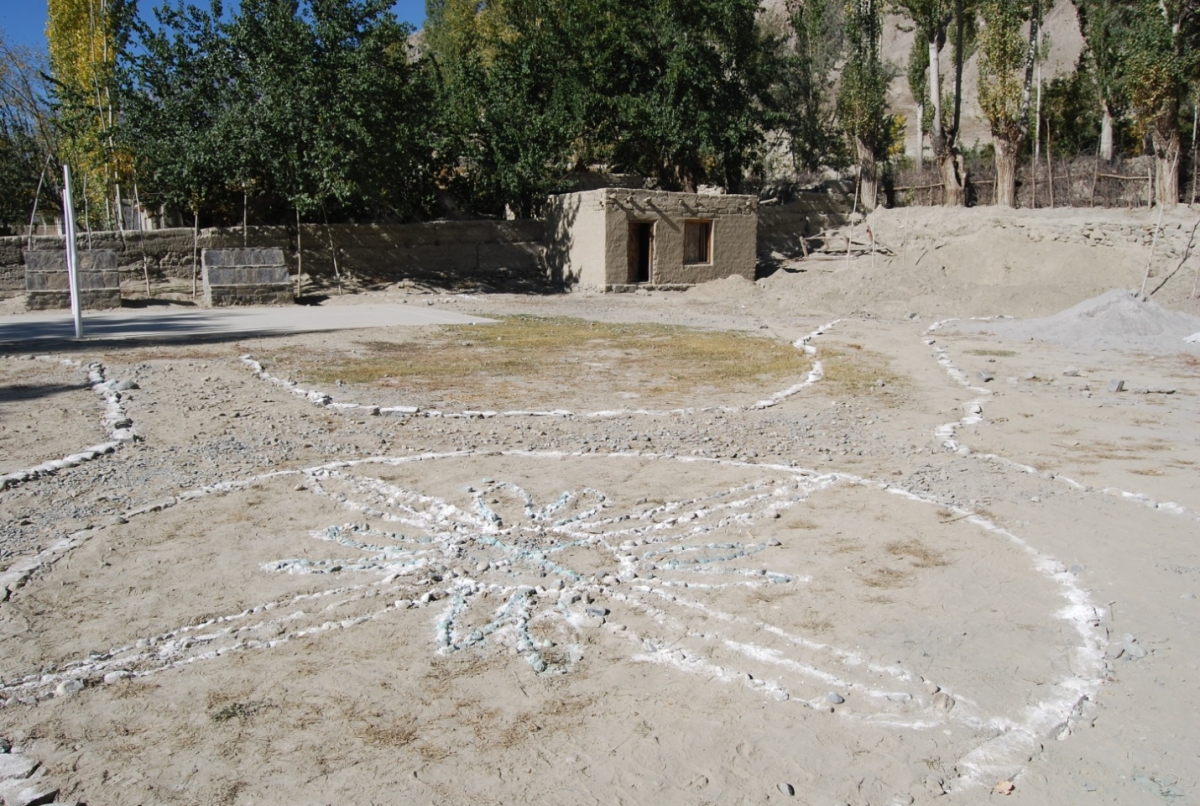 I hired a local Shigri college student, Anwar Ali, to be our project coordinator, while Ibtesam and Currim worked with the entire student body to redesign the garden plans. Our primary intention was to re-engage the students to ensure sustainability and ownership of the space. Students worked in groups of ten, first sketching their ideas and then drawing their plan to scale on the 25′ x 25′ space allocated on the grounds. They demarcated their plans with natural materials like rocks, rope, and paper.
The best ideas from each group were incorporated into the final master plan, drawn up by Ibtesam. This collective input formed the foundation we laid for successive generations of school children and teachers, to continuously develop and maintain their garden as their own.
Less than a handful of schools in Pakistan integrate common curriculum with gardening and agriculture. The Abruzzi School Garden is the first initiative, in a rural setting, born of the minds of its student body and local residents. Albeit its embryonic stage, this garden is a landmark that invites vigorous community participation and depends upon their generosity and support.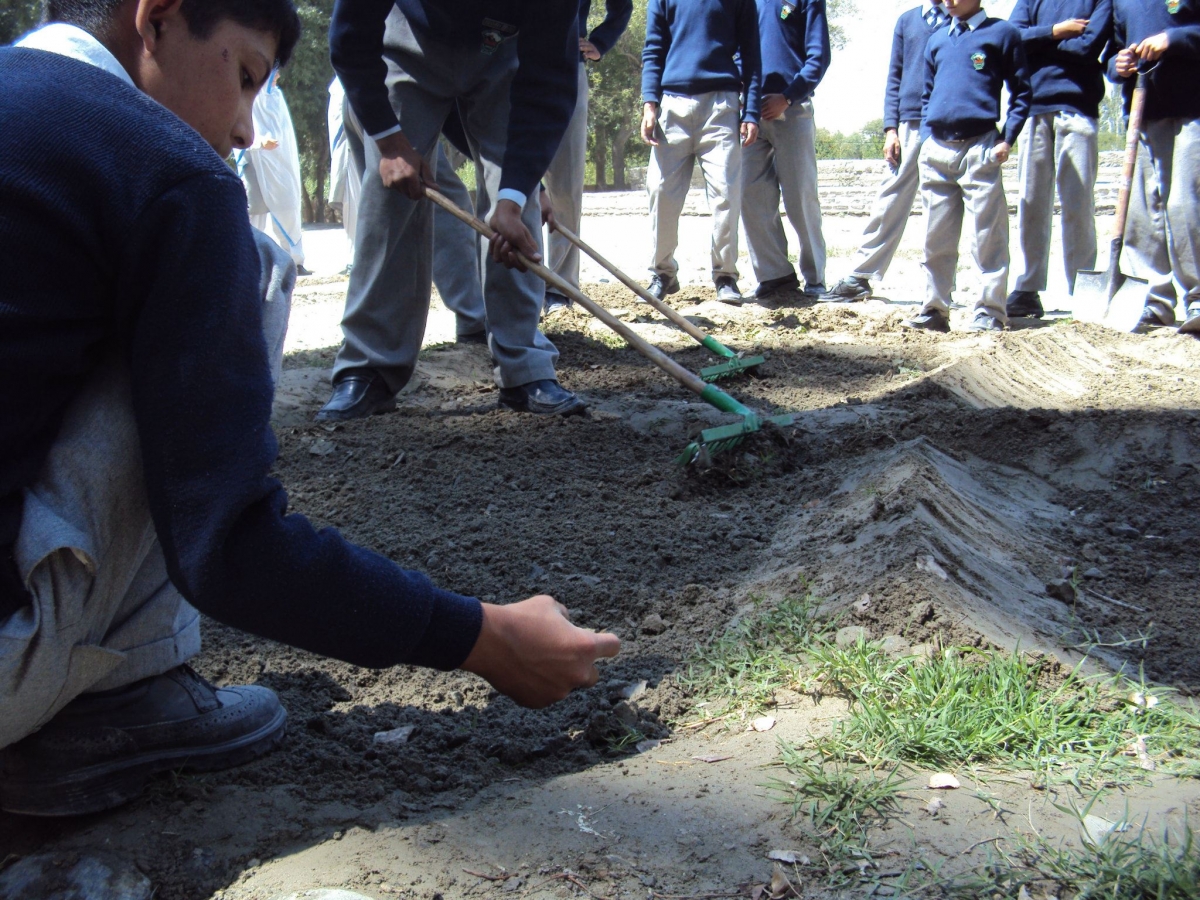 The enthusiasm, excitement, and participation by all students, has reaffirmed my belief in experiential education to change thought patterns and expand the definition for what education can mean. From training the interns, to teaching the children, I knew all along that our student body and the larger community would intuitively understand the language of the land. After all, these students and instructors were mostly the children of farmers.Teaching any subject through the lens of the land makes complete sense for our school in the village of Siankhor. The struggles within our current educational system stem from language
barriers (English and Urdu) – the medium by which education is taught in Pakistan. Very quickly, our garden's function had the potential to expand pathways for learning: valuable lessons could be taught in the outdoor space, covering science and math concepts but also language study and social sciences.
In October of 2011, the completion of some of the landscape features of the master plan were celebrated with the community through a Show and Tell day led by students, which showcased their garden drawings, and garden-related skits, speeches, and poems. They even had a bake sale.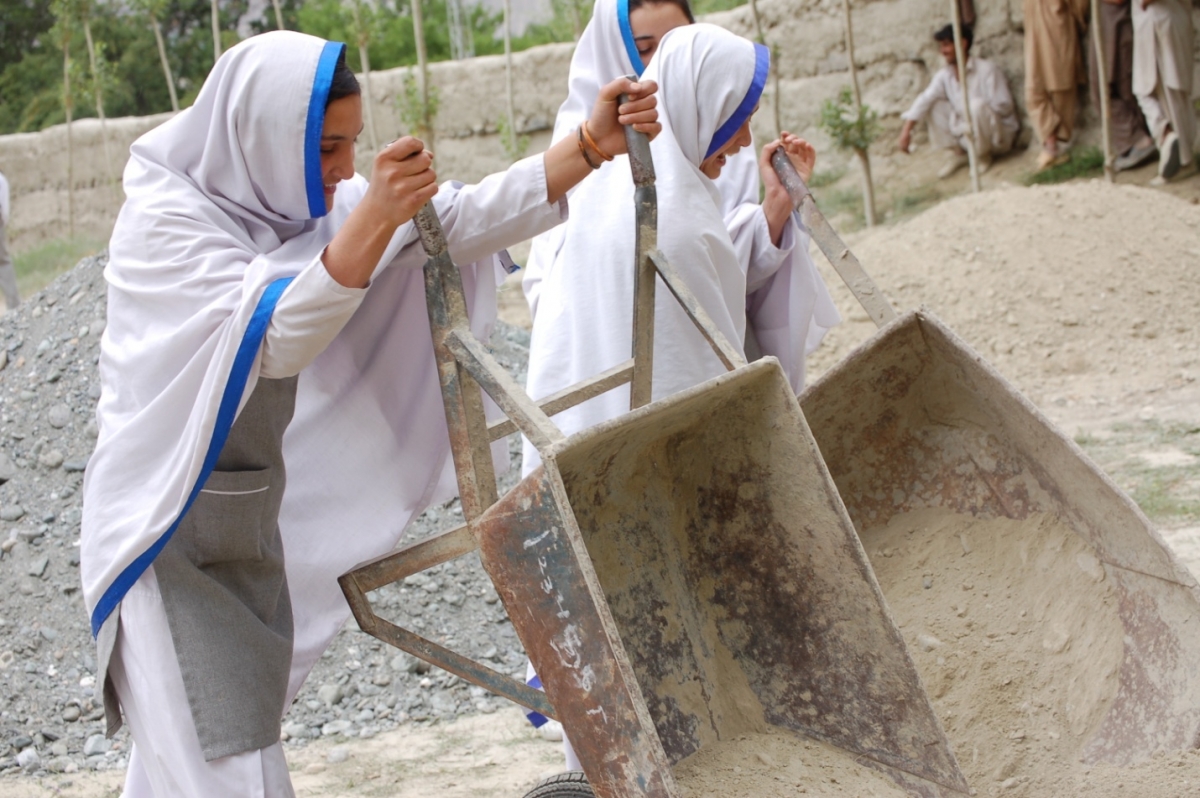 No formalized garden classes are in place yet, and some teachers are reluctant to use the garden as a teaching tool. Though I am aware that outdoor education is a radically new concept for rural schools in Pakistan, where rote memorization or cramming are often the norm, I chip away at the principal's resistance, hopeful that the garden space will soon thrive as a laboratory for teaching every subject through agricultural work and study. Fortunately, the school board, administration (STDMS), and many parents are keen to see the program fully incorporated into curriculum. This year, with help from a volunteer, Hira Nabi, some teachers and students have begun to develop their assigned vegetable bed in the planned kitchen garden, using tools and curriculum received through the National Gardening Association's Mohammad Ali Peace Garden grant.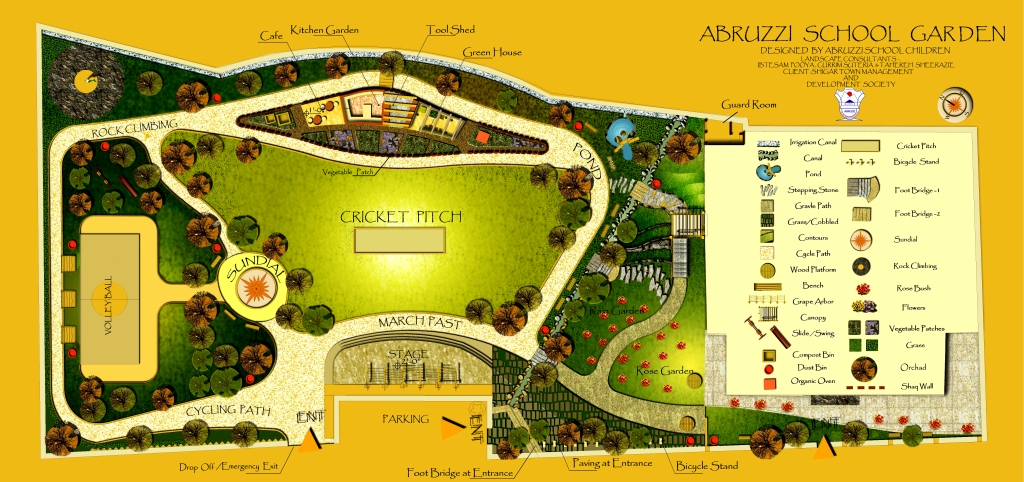 My next goal is to raise sufficient funds to permit me to spend March through October of 2013 in Shigar, working with the school community on curriculum integration, construction completion, and the training and hiring of a local garden director. As the garden develops into a mature space, where Baltistan's traditional methods of ecologically-sound farming practices are preserved and celebrated, I look forward to sharing those resources and know-how with other area schools, and schools from other cities and countries. I want to replicate this beautiful model of edible education across the country of Pakistan.